Ok, if you follow the blog scene AT ALL, chances are you've probably seen these to die for
J Crew
necklaces floating around...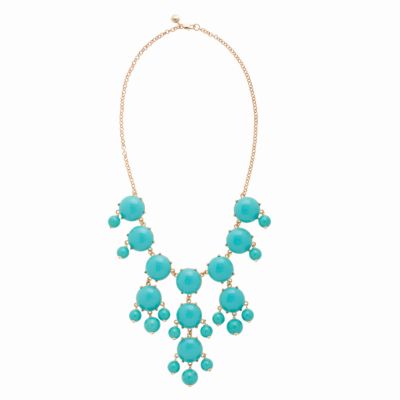 Yeah, drool much? I do. And I'm not a "fashionista" by ANY means...but there's something about this necklace that just makes me all googly eyed. The drawback of this little lovely is that it's $150!!!! Yeah, you just read that right.
So, me being
cheap
frugal with my money, obviously I didn't buy one.
I found some knock-off's on different Etsy stores and told myself (and my friend Emilee, who's my blog partner in crime) that I would be the owner of one of these before my birthday which isn't until the middle of next month. Kind of like my birthday present to myself.
Well today, thanks to the world of blogging,
this blog
, and
this blog
, that I read every day, I discovered a deal on the knock-off's on
GroopDealz
. I checked it out and approximately 3.7 seconds later I was ordering MY VERY OWN!!!!!!!
I ordered the turquoise one!!! EEEEKKKK!!!!!! I am SOOOOOOO excited I can hardly stand it!!!
Anyways, it's a GREAT deal and I just had to share with you ladies today. Snatch one up and sing a round of "Happy Birthday to Me" to yourself as your're checking out. It'll make for a great start to your day!!